A Princess Painter in Rome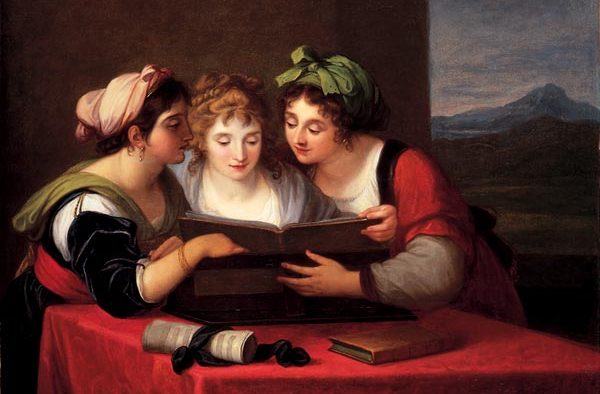 500 Jahre Leonardo da Vinci: Großes Jubiläumsjahr zum Todestag
The painter Angelika Kauffmann (1741-1807), born in Chur, Switzerland, but originally based in Vorarlberg, used the attributes of beauty and eternal youth, learning, musicality, sensitivity, and the cult of friendship to surround herself with a pop-star-like mythos. She merged international success and great fame with extraordinary productivity and strong business acumen. Her elegant, mourning women and gentle young men, a subtle coloration, restrained emotionality, well-tempered classicism – in oil paintings and graphic works, reproduced as decorative art – became the signature of an epoch.
No wonder, then, that the envy-induced pejorative label of "lady's art" as well as imputations such as "gentle soul", "Madonna", and "[the] perhaps the most sophisticated woman in Europe" shadowed the daughter of an itinerant painter throughout her own life as well as for long period of history afterwards. Nowadays, however, the way Kauffmann's painted works dissolve the boundaries of traditional femininity and masculinity and allow the rigid gender roles to blur is breathtakingly contemporary. Last year, the Dessau-Wörlitz Garden Realm presented "Unknown Treasures from Vorarlberg Private Collections"; from June to October 2019, one has another chance to see these works of the artist in Bregenz and Schwarzenberg. And a major retrospective is following in London in 2020.
Angelika Kauffmann's career began and ended in Italy. The "child prodigy", whose first portrait, painted in Cumo, made her feel as she had been transposed "into the shine of a fairytale land", was broadly and intensively encouraged by her father. She subsequently studied a number of years in Milan, Bologna and Florence, and became an honorary member of selected "gentlemen's clubs" that were the art associations of the time. The copying of old masters awoke Kauffmann's interest in history painting. In Rome, she gained access to the circle of Anton Raphael Mengs. By the time she made waves with a portrait of Johann Joachim Winckelmann, she belonged to a community of artists, antiquity researchers, art dealers, and town and museum guides that stilled not just the hunger for education and culture of the numerous wealthy and noble making grand tours, but their desire for the ideally perfect portrait as well. With an allegory of hope, she joined the ranks of the proper members of the Accademia di San Luca [Academy of Saint Luke].
In 1766, "Miss Angel" moved to London where, as a protégée of the Queen and specialising in aristocratic portraits, literary topics, riddles and classical history themes, she had the art scene in the palm of her hand for the next 15 years. Then, accompanied by her father and her husband, Antonio Zucchi, she once again moved the focal point of her life and artistic production to Italy.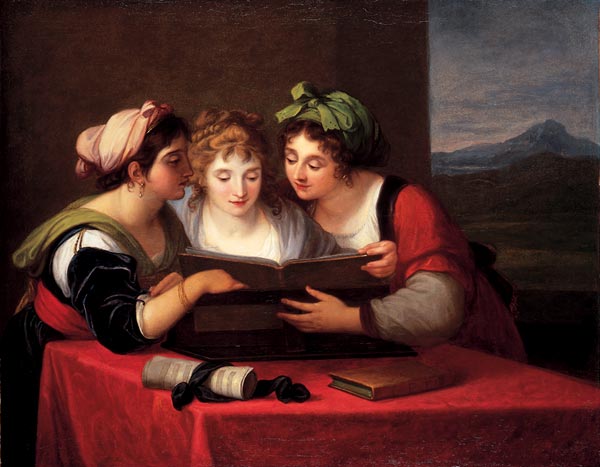 Angelika Kauffmann's second breakthrough was kindled in 1782 with a commission, from the Queen of Naples and Sicily, for a large-format family portrait. In Rome, she found adequate rooms in a palazzo on the Pincio, in the immediate vicinity of the church Santissima Trinità dei Monti and the Spanish Steps. Her salon was one of the most sought-after in the city. Her studio was part of any fashionable city tour. The newspapers even noted the completion of her works, which now included large-scale history paintings.
On 29 October 1786, Johann Wolfgang Goethe, tired of Weimar, court life, his offices and Charlotte von Stein, entered the Eternal City. Many things lay started in the drawer, and now all he wanted to do was draw. Angelika Kauffmann led him through a "school of seeing", and advised him on his art purchases. In June 1787, she began the portrait of the man, whose friendship she believed to reliably possess. Kauffmann gained another friend when, on 15 August 1788, Duchess Anna Amalia of Saxe-Weimar-Eisenach, left for a long-planned tour of Italy and sat for a portrait.
During the French occupation of Rome and the Coalition Wars, the artist preserved even as her world began coming to end due to revolution and war. After the death of her husband, she turned to religious themes and withdrew from the public eye. The decades of intensive work now demanded tribute. Kauffmann's health went downhill. She died on 5 November 5 1807. Her grave is located in Sant'Andrea delle Fratte, her portrait bust stands in the Pantheon, today Santa Maria ad Martyres.
An homage to the country of her choice was painted in 1796: The Three Singers. Three vocal pitches, three forms of musical expression, three tribes of Italy, three graces. Forever young, forever graceful, Angelika Kauffmann.